| | | |
| --- | --- | --- |
| Welcome | | You are not currently logged in. |
CWA Convention
CWA 75th Convention
Nominations for Delegate to CWA's 75th Convention were held on Thursday, March 5th at 5:30p.m. Four petitions were received and accepted to send the following to CWA's convention on June 8-10, 2015 in Detroit, MI.
Congratulations to: Jim Morris (East/Fred), Inesa Scruggs (CDS), Roy Shumaker (OPN), Jim Wilson (IPO).
Due to the number of petitions received, an election was not necessary.
Thanks to all for your hard work and commitment to represent CWA Local 2201!
CPS Award
YOUR "UNION BARGAINED FOR" CORPORATE PROFIT SHARING IS HERE! This is for Verizon employees.
The Amount is $713.00. You should see the money on your March 13, 2015 paycheck.
Central Virginia Membership Meeting
Tonight's Central VA Membership Meeting has been RESCHEDULED to THURS FEB 26th @ 6 pm. This is due to the service emergency and weather. Please be safe & be here next Thurs for important information!
Verizon News
CWA Statement on Proposed Sale of Verizon Assets to Frontier Communications. http://www.cwa-union.org/news/entry/cwa_statement_on_proposed_sale_of_verizon_assets_to_frontier_communications Information may also be found on the CWA website at cwa-union.org.
Read More...
Verizon News
Sale confirmed by Verizon. Texas, California and Florida will be sold to Frontier. Wireless towers in some areas also sold. http://www.verizon.
Read More...
BARGAINING NEWS!
CONGRATULATIONS
PRESIDENT RICHARD HATCH
For being elected to represent the State of Virginia in bargaining for the CWA/Verizon contract. Richard is the best candidate for this position. Local 2201 is very proud!
Anthem Hit by Hackers
Many of our Verizon workers and Retirees have their healthcare administered through Anthem. Communication went out from Anthem to many members and we are waiting to hear if any of our information was compromised. Verizon has reached out and said it possibly has been. As soon as we hear more info we will send it out. http://www.wsj.
Read More...
BARGAINING SURVEYS FOR VERIZON MEMBERS
Attention Union Brothers and Sisters in the Verizon bargaining unit: Bargaining Surveys were mailed yesterday for 2015 Negotiations with Verizon. This is for contract effective August 2, 2015. Please complete and return in the enclosed envelope. They are to be returned no later than January 12, 2015. Happy New Year.
Read More...
On Monday, November 3rd, the Election Committed counted ballots for the position of Executive Vice President and Vice President of CDS and OSP. The results are as follows: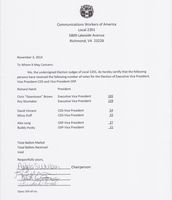 Thank you very much!
Angela Whelan, Election Chair
On Monday, October 6, 2014, ballots were counted for the positions of Executive Vice President and Secretary/Treasurer. Read More...
Dear Verizon Members, Annual Enrollment for your 2015 health care benefits is scheduled for OCTOBER 21, 2014 THROUGH NOVEMBER 4, 2014.  Any questions, call Benefits at 855-489-2367. Read More...