| | | |
| --- | --- | --- |
| Welcome | | You are not currently logged in. |
BARGAINING SURVEYS FOR VERIZON MEMBERS
Attention Union Brothers and Sisters in the Verizon bargaining unit: Bargaining Surveys were mailed yesterday for 2015 Negotiations with Verizon. This is for contract effective August 2, 2015. Please complete and return in the enclosed envelope. They are to be returned no later than January 12, 2015. Happy New Year.
Read More...
EVP and VP Election Results
On Monday, November 3rd, the Election Committed counted ballots for the position of Executive Vice President and Vice President of CDS and OSP. The results are as follows: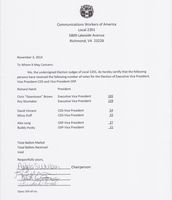 Thank you very much!
Angela Whelan, Election Chair
Executive Officer Elections and Vice President Elections
On Monday, October 6, 2014, ballots were counted for the positions of Executive Vice President and Secretary/Treasurer.
Office of Executive Vice President
Chris "Downtown" Brown 134
David Vincent 65
Roy Shumaker 167

There will be a run-off election between Chris "Downtown" Brown and Roy Shumaker immediatley. VICE PRESIDENT ELECTIONS FOR EASTERN-OSP AND COMMERCIAL DIRECTORY SERVICES (CDS) WILL BE ON THE SAME BALLOT FOR THOSE FOLKS IN THE GROUP. Ballots were mailed Wednesday, October 8, 2014. Balloting period is October 9, 2014 through midnight, October 23, 2014.
Office of Secretary/Treasurer
Robbie Johnson 257
Kerri Ross 102
BALLOTS WILL BE COUNTED NOVEMBER 3, 2014.
Thank you,
Angie Whelan
Election Chair

ATTN: Verizon Members
Dear Verizon Members, Annual Enrollment for your 2015 health care benefits is scheduled for OCTOBER 21, 2014 THROUGH NOVEMBER 4, 2014. Any questions, call Benefits at 855-489-2367.
Read More...
Proposed Merger Approved
The Local is happy to announce that the merger has been APPROVED by all four Local memberships. This merger will become effective upon approval of the National Executive Board. Thank you to all who participated in sending in your ballot. We know that this will make us stronger and more effective for the fights ahead. As we go through the process of completing the merger and prepare for upcoming elections in the fall, please contact the Local to ensure your information is correct. This is a bold step in the right direction to deal with the many changes that we have all seen. More information will follow.
Richard Hatch
President
Avaya News
The Local has received the results from Avaya balloting. The vote was 94% to ratify the contract.
Read More...
Enhanced EISP
NOVEMBER 8, 2013 POTOMAC SPECIAL EISP SIGNED AGREEMENT NOVEMBER 1, 2013 Verizon EISP Update - The CWA Bargaining Committee has been meeting with Verizon in Philadelphia for the last two days to try and reach an agreement on an enhanced EISP package. An agreement has NOT been reached and Bargaining will continue into next week. As new information is available we will put it out as soon as possible. If there are any specific questions please call the Local.
Read More...
Download:

2013 Potomac Special EISP Agreement.pdf
EISP September 28, 2013
The following titles and locations are affected by the Verizon EISP. The off-payroll date for this is September 28 and information is being sent out immediately to those affected. There are no Article 35 declarations in our area. Please contact the Local with any questions.
Read More...
Download:

EISP September 28 2013.pdf
| | | |
| --- | --- | --- |
| | | |
| | | |
| | | |
Corporate America and their Republican allies in the Senate are trying to kill the National Labor Relations Board (NLRB). The NLRB is the federal agency for protecting workers' rights, and corporate America knows it. That's why they've waged a five year campaign to destroy the NLRB. Take the case of Clarence Adams, a Marine, Iraq War Veteran and father. Read More...
Attached you will find a signed agreement between the Union and Verizon to allow 4x10's and rotating weekends - Finally! As all of you know this has been a long process and has changed many, many times. Some of those times I wasn't sure we would get anything. It has been a fight with both the company and at times pushing the District to make things happen a little quicker. Read More...
Download:

Virginia 4-10 June 2013 Signed.pdf
The local recently learned that the HPCC provided to members shows Allergy Testing and Treatment as 100% covered and included under the Preventative Care Coverage category. Members were being assessed a $20 co-payment for these services or full responsibility if the allowable amount was less than $20. Of course, during negotiations we agreed to modify the $15 physician's office visit to $20. Read More...