| | | |
| --- | --- | --- |
| Welcome | | You are not currently logged in. |
American Red Cross Unionizes
Red Cross Votes CWA
CWA Local 2201 would like to welcome new Brothers and Sisters to our Local from The American Red Cross Blood Services. Yesterday employees voted 113-35 to form a Union and join our Local. A special thank you to Stephanie Pazur for working hard to assist these workers in gaining a voice. Please welcome these new union members into our local.
CWA's 75th Convention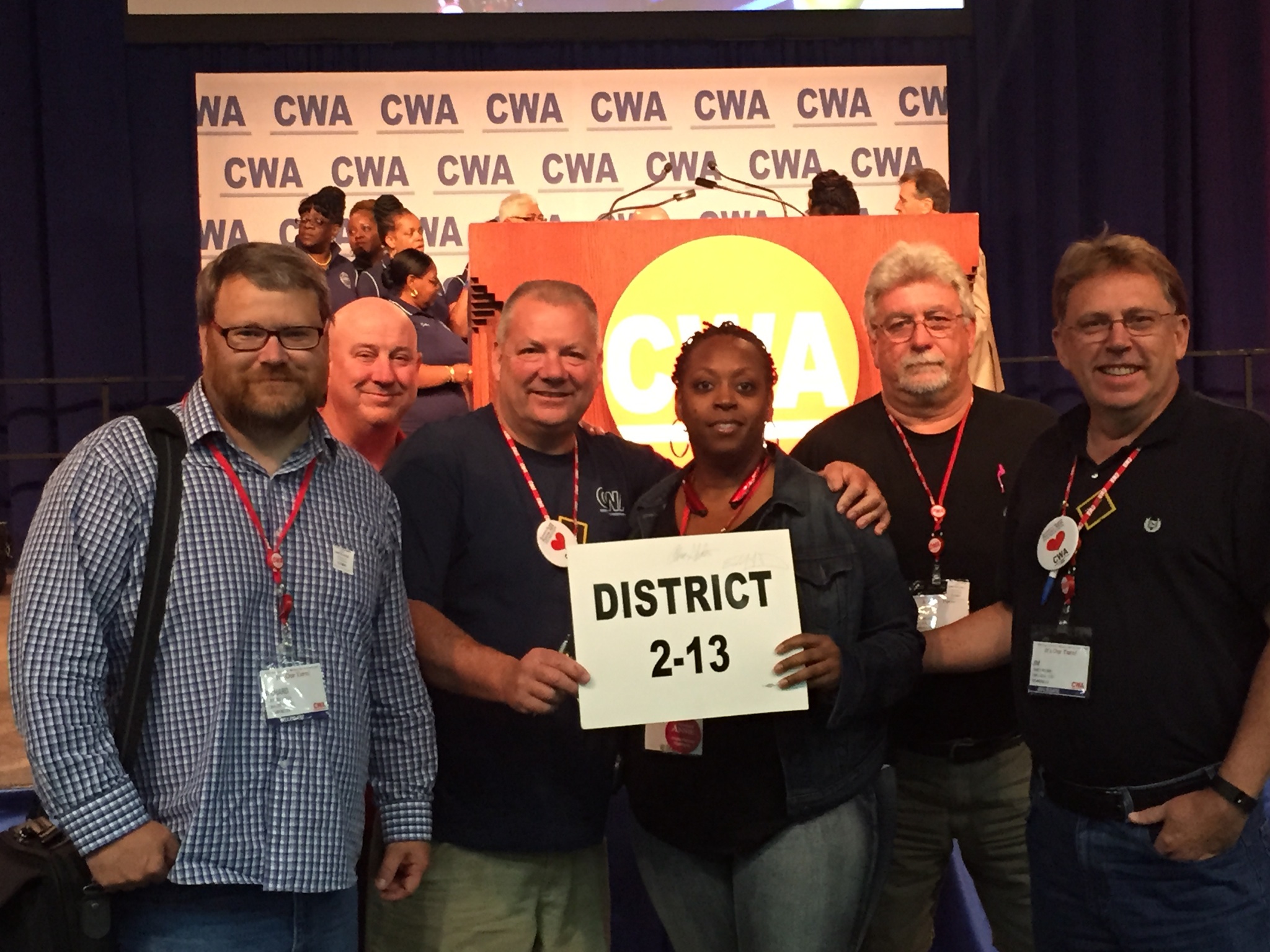 CWA's 75th Convention is being held in Detroit through today. A BIG THANK YOU to our representatives for Local 2201. Executive Officers, President Richard Hatch, Executive Vice President Chris Brown, Delegates, Jim Morris (VP-East/Fred), Inesa Scruggs (Chief Steward, CDS), Roy Shumaker (Chief Steward, OPN) and Jim Wilson (Chief Steward, IPO). What a great picture of our Union Brothers & Sister!
BARGAINING NEWS!
CONGRATULATIONS
PRESIDENT RICHARD HATCH
For being elected to represent the State of Virginia in bargaining for the CWA/Verizon contract. Richard is the best candidate for this position. Local 2201 is very proud!
AT&T Legacy TENTATIVE AGREEMENT Reached
AT&T Legacy - No Strike Yet. Keep Mobilizing. Stay Informed. Apr 14, 2015 2pm Legacy T Bargaining Update The Contract has expired. We are continuing to bargain without a Contract. There can be no business as usual. While we are still negotiating, we are very angry with the lack of movement at the table. However, we are committed to keeping our Members earning a pay check and keeping the Company off balance while we continue to fight at the table and you continue to fight on the job. In Unity, Your Bargaining Team April 14, 2015 11:56 am Our Members at AT&T Legacy face a possible Work Stoppage at noon today. Bargaining for this nationwide contract has been going on for weeks and the contract has been extended until Noon today. For those members at Legacy AT&T, you will be contacted as soon as we hear anything regarding a work stoppage with further instructions.
Read More...
Many of our Verizon workers and Retirees have their healthcare administered through Anthem. Communication went out from Anthem to many members and we are waiting to hear if any of our information was compromised. Verizon has reached out and said it possibly has been. As soon as we hear more info we will send it out. http://www.wsj. Read More...
Attention Union Brothers and Sisters in the Verizon bargaining unit: Bargaining Surveys were mailed yesterday for 2015 Negotiations with Verizon. This is for contract effective August 2, 2015. Please complete and return in the enclosed envelope. They are to be returned no later than January 12, 2015. Happy New Year. Read More...
On Monday, November 3rd, the Election Committed counted ballots for the position of Executive Vice President and Vice President of CDS and OSP. The results are as follows: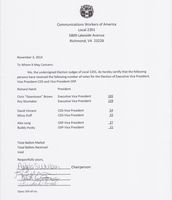 Thank you very much!
Angela Whelan, Election Chair